I remember falling asleep to the sound of my mother's Kenmore whirring along in the room beside mine. Sometimes, if I couldn't fall asleep, I would sit on the floor beside her and watch her projects take shape. I have fond memories of my mother, my sister and I, all kneeling on the floor, pinning and cutting together while we listened to a story on CBC.
When Anthony and I started dating, I had never attended Anime North, but I appreciated his devotion to good costuming. But… there wasn't much furniture moved back from his army quarters. Where was his sewing machine? There was a sewing machine… right? When he first broke the news, I didn't believe him. He had done every stitch of his cosplay by hand.
Years later, my perspective has shifted. I love my machine. I would never want to be without one. But sewing machines take up space and they're expensive. My feelings about hand sewing never caught up. If you share my horror of long hours of not-quite-straight straight seaming, good news! There are options that are cheaper than a Kenmore and faster than hand sewing. Here are a few.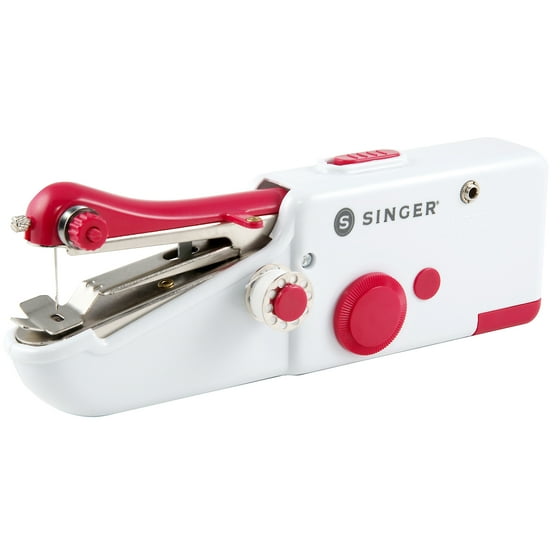 The Handheld Sewing Machine
This little sucker is the size of a staple gun. I keep one in my work locker so I can pick away at my projects on my breaks! You can buy them online or in the sewing section of most big box stores for about $25. Pros: Small, portable, doesn't need a bobbin. Cons: Finicky to tie off (watching a guide on Youtube is your best bet!), can only do straight stitches.
Instant Hem & Cuff Tape

Also available online or locally, this double-sided tape is as easy as it sounds. Peel the backing, press firmly, and you're done. Pros: Extremely simple and intuitive to use, great for last minute projects and on-the-go mending, results in an invisible seam, works on leathers. Cons: Not strong enough to replace structural support stitching, difficult to pass a needle through for adding notions like buttons, does not work well for heavy materials.
Fabric Glue
A close relative to hem and cuff tape, fabric glue is washing and drying friendly and sufficient for non-structural elements. Pros: dries clear, making it ideal for adding creative notions like lace, machine washable, cheap and readily available. Cons: Messy to use, requires drying time, not very strong.
What are your no-sew solutions for costuming? I'd love to hear about them!